The FARMKING Rotavator / Rotary Tiller produces a fine seed bed with one or two passes before and after rain. It is most suitable for the removal of stubble sugarcane, wheat, banana, cotton. It retains soil moisture and increases soil porosity and areation, which enhance germination and growth of crops.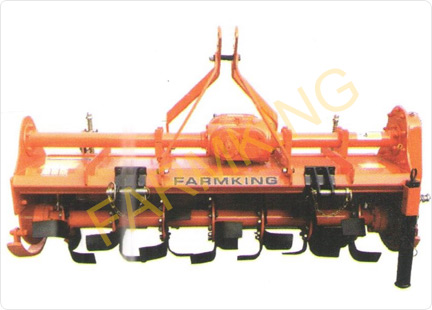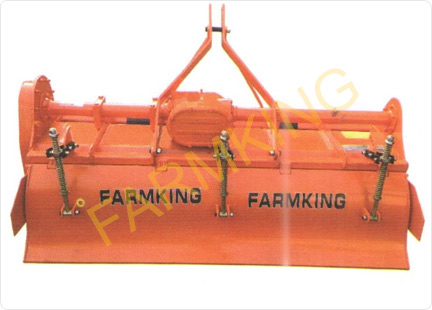 ADVANTAGES
Fuel expenses saving can be to the tune of 15% TO 35%
It can immediately prepare the soil, the soil moisture of previous crop does not go waste
Pudding in wet fields is done smoothly, quickly and efficiently
Suitable to use in dry as well as wet land cultivation.
Suitable for light and medium soil conditions.
Used for loosening and aerating soil up to depth of 125 mm- 1500 mm.
Prepares seed bed quickly and economically.
TECHNICAL SPECIFICATIONS
MODLE
FKRT 125 cm
FKRT 150 cm
FKRT 175 cm
FKRT 200 cm
TRACTOR POWER
35-40 HP
40-45 HP
45-50 HP
50-55 HP
OVERALL WIDTH
155 cm
180 cm
205 cm
230 cm
TILLAGE WIDTH 125 cm
125 cm
150 cm
175 cm
200 cm
GEARBOX
Multi Speed
Multi Speed
Multi Speed
Multi Speed
ROTATED BY
Gear Driven
Gear Driven
Gear Driven
Gear Driven
P.T.O. SPEED(rpm)
540/1000
540/1000
540/1000
540/1000
ROTOR SPEED
210
210
210
210
GEAR BOX OVERLOAD
PROTECTION
Shear Bolt
Shear Bolt
Shear Bolt
Shear Bolt
NO. OF FLANGES
5
6
7
8
NO. OF BLADES
30
36
42
48
APPROX. WEIGHT
400 Kg.
450 Kg.
500 Kg.
550 Kg.
NOTE :
The contents of this catalogue are only giving information to the end user without engagement from our side. The company can modify specifications of the total machine and it's components without any previous notice.